PiE: The Invisible Threat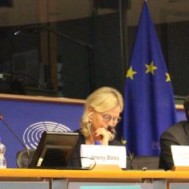 April 2018
Arvia chief executive Mike Lodge, considers ways to tackle the threat to the environment and human health posed by pharmaceutical micropollutants.
Probably the biggest problem facing policymakers tackling pharmaceuticals in the environment (PiE) is that they are invisible. If it is difficult to persuade people that they should change age-old practices and make costly investments, then that is even harder when they cannot see the evidence in the short-term.
Bringing some visibility to this very serious threat were participants in a debate that took place in the European Parliament in January 2018 on the impact of pharmaceutical production and consumption on the environment. Concentrations of pharmaceutical residues being detected in surface waters and groundwaters are rising in parallel with greater useage and an ageing population.
Sources of PiE are wide-ranging and include:
Human excreta collected at sewage treatment plants and arising in effluent
Unused drugs disposed to landfill waste streams later emerging in leachate
Pharmaceutical manufacturing plant wastewater discharge (often containing Active Pharmaceutical Ingredients (APIs))
Animal excreta from intensive farming appearing in run-off
Meat production, abattoir and rendering plant discharge
Pharmaceutical residues are polluting both surface waters and groundwaters globally and this includes cross-border rivers like the Rhine and the Meuse in Europe. The impacts on water quality in municipal supplies and on aquatic life and ecosystems can have very serious consequences as humans and other species are inadvertently dosed with medication.
The policymakers, experts and representatives from civil society and industrial groups meeting in Brussels were clear that more needs to be done to tackle PiE. European Public Health Alliance secretary general Nina Renshaw was in no doubt that the EU should be doing more – and not only in Europe. The supply chain for pharmaceutical production is global and the EU must support measures in India and China too, she said.
It is no surprise that collaboration offers the best way to tackle this complex and multi-stranded issue and currently the Netherlands offers the best model. The Dutch chain approach involves close dialogue between central government, regional water authorities and hospitals.
It engages the whole pharmaceutical chain and identifies measures for each stage of the pharma-cycle that must be taken in parallel:
Pharmaceutical development and authorisation
Drug prescription and use
Waste disposal and wastewater treatment
Professor Jan Peter van der Hoek of Delft University of Technology was sceptical of end-of-pipe solutions on the grounds of expense and effectiveness. However, capturing and treating pharmaceutical residues at source does not appear to have been given explicit consideration by the committee. Technologies now exist for this to be carried out on-site throughout the chain, where pharmaceutical residues and APIs are expected to be most concentrated.
Potential sites include pharmaceutical production plants, hospitals and elderly care homes and it is already happening. Arvia's Nyex Treatment Systems, which combine adsorption with electrochemical oxidation in a single, scalable unit, have already successfully treated challenging wastewaters containing pharmaceutical residues in the UK, Europe and China.
Nyex systems are extremely adaptable and can stand alone or be used to complement other treatment processes. The systems are low-energy, free from chemical dosing and do not produce sludge, which would require transportation and specialist disposal.
There is no doubt that bulk production of affordable medicines and vaccines is saving lives, but the price pressure is increasingly being exerted at the expense of the environment. Standards for pharmaceutical manufacturing are not yet matched by standards for the environment and this needs to be addressed.
The Dutch approach is pragmatic, but pollution does not stop at the border – it needs to be adopted in other member states and worldwide. The upcoming review of the European Water Framework and Urban Wastewater Treatment Directives is an opportunity to address issues related to pharmaceuticals in the environment.
Pharmaceutical manufacturers, drug testing bases, agribusiness, medical facilities and elderly care homes all need to engage because environmental pollution may be hard to see, but it increasingly equals measurable business risk. Reducing exposure is not only possible but essential, and as the report says, the cost of inaction is too significant to delay.
For more information, read the full 'Join the Dots' Tackling Pharmaceuticals in the environment and AMR in Europe minutes here.