National Apprenticeship Week 2018: A Coffee Break with Mark Rushforth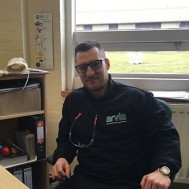 March 2018
Tell us about your journey with Arvia?
"I started as an Apprentice Process Technician in 2013; with continued growth and development of myself and the company, I am now in the position of Lead Service Engineer. My function is generally to manage the build, deployment and on-site operation of Arvia's processing equipment; whilst also managing and building a team of service engineers to support this function."
What are you doing at the moment?
"I am currently working towards completing a higher apprenticeship in manufacturing engineering, which has given me an insight into general management as well as project management and project delivery.
My role is extremely varied in that no two days are the same; I am currently working on building and testing the next generation of Arvia processing equipment which is due to be delivered to customers in China. A secondary responsibility or ongoing target for myself is to build and develop a service department that is capable of serving the growing demands of the company and its customers."
Would you recommend this route to young people thinking of apprenticeships?
"Having developed through a level 3 apprenticeship, I am currently working towards the completion of a level 4 (higher apprenticeship). My personal experience of apprenticeships has been positive and has allowed me to develop a good balance of usable skills, leading me to a position whereby I am managing a growing service department within Arvia Technology.
As well as my own positive experiences with apprenticeships, I have also worked alongside a number of fantastic young people and apprentices who are clearly benefiting from the balance of learning that can be gained from developing through a work based apprenticeship."