International Women's Day 2018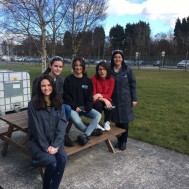 March 2018
2018 has been a year of unparalleled change for women's rights, equality and justice. Sexual harassment has hit the headlines and public outrage towards examples of unjust treatment of women has been a catalyst for change.
In a largely male dominated industry, Arvia is at the forefront, dedicated to equally representing women in science.
Arvia Technology has an extensive team of research and development experts and laboratory operatives, a team which is largely dominated by inspiring women.
On International Women's Day 2018, Arvia Technology has taken the opportunity to showcase some of the fantastic women working in the business by finding out what inspired them to become scientists.
We caught up with Dena Baehr, Analytical Chemist, to find out what her role is at Arvia and what inspired her to pursuit a career in science:
"My role at Arvia is to analyse water samples using a range of instruments, perform maintenance, troubleshoot and develop new methods. I pursued a career in science because I love learning and seeing a project you've been working on fall into place.
"Ultimately though, I hope to make a positive change to the world. My favourite part about working at Arvia is knowing I have the potential to make a real difference. Every day is different, and it feels great when you have a 'Eureka' moment, no matter how small."
Arvia Technology boasts a 7 person strong team of research of development experts, one of which is Tiziana Denaro, a Senior Research Scientist, whose role comprises investigating and understanding the electrochemical processes and mechanisms taking place inside the Nyex system.
Tiziana then uses this information to optimise Arvia's suitability for specific industrial applications. We asked Tiziana what drove her to pursuit a career in science:
"Since I was a very young I've had a natural aptitude for technical and scientific subjects. At 15 years old, I was fascinated with a history documentary about the research scientists who pioneered Nuclear Physics. It was at this point that I decided I wanted to be a physicist. 
"After gaining a PhD in Material Engineering, I feel like I can say I'm a scientist! I come from a male dominated family and was expected to go into a typically 'female' role.  However, I was passionate about science, so I followed my instincts and ended up with a career I very much enjoy".
Tiziana works on the research development team at Arvia with Leonor Canizares.
Leonor, who is a Research Assistant at Arvia, works on the continuous improvement of Arvia's Nyex Systems and carries out research to develop future generations of the technology. This is executed through numerous trials with different waste samples in varying conditions to monitor the progress.
Through the tireless work carried out by the team, Arvia's methods are continually evolving and improving.
We also took time out to speak to Lucile Francois, Operations Manager at Arvia whose role focuses more on the commercial side of the business; managing and organising incoming customer projects. Lucile plans the testing which takes place at Arvia's in-house laboratory. When asked about her role, Lucile said;
"We ensure we get the best results for each customer by tailoring the experiments within an acceptable timeline. It's a very interesting and rewarding role as I get to see the project grow from laboratory scale to the customer on-site system. My position within Arvia allows me to be involved in the technical side of the project, along with the commercial side of the business.
Finally, we spoke to Ruby Williams, Laboratory Assistant at Arvia talked about a recent project with a major European engineering, design and project management consultancy.
"We are trying to assess whether the Nyex process can be used to treat a range of pesticides used in food production. It has been great, and I've loved how much freedom and responsibility I've been given, despite being a student.
"Between Dena and I, we've managed to create methods of analysis for almost all of the pesticides and are still working on a couple. The next steps are analysing how the Arvia system performs. But so far so good!"
Arvia has made a commitment to nurturing the wealth of female talent within the organisation, and ultimately hopes that future generations of women everywhere will be inspired to pursue careers in science.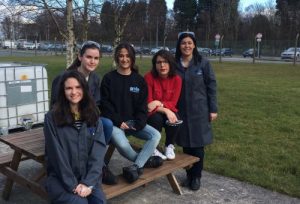 Left to Right: Dena Baehr, Ruby Williams, Leonor Canizares, Lucile Francois, Tiziana Denaro