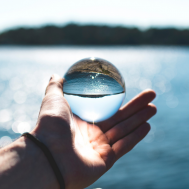 August 2019
The theme of 2019's World Water Week is 'Water for Society – Including All'.
World Water Week is organised by the Stockholm International Water Institute (SIWI), one of the world's leading water institutes, and aims to highlight global issues in need of a collaborative effort for improvement.
The theme this year is also the essence of the commitment to the 2030 Agenda for Sustainable Development (SDGs).The UN have outlined 17 goals in total, with one of the most prevalent being 'to ensure the availability and sustainable management of water and sanitation for all'.
The bottom line is that availability goes hand-in-hand with food crises, the spread of disease, natural disasters, climate change, unemployment, interstate conflict, and ecosystem collapse.
Our ecosystems provide countless necessities for humans, including the underpinning of livelihoods, so we need to maintain and protect them to secure a sustainable future.
Arvia Technology work with industrial manufacturers around the globe to increase their onsite wastewater treatment capabilities and provide new levels of treatment performance.
By removing low and trace level hazardous chemicals prior to discharging effluent to nature, companies are not only able to secure the future of their operations by avoiding being shut down, they are more importantly preventing pollution issues downstream.
Shockingly, high rates of cancer and other diseases have been found in communities living next to highly polluted rivers.The Citarum river in Indonesia has over 200 textile factories along its riverbank. This is the most polluted river in the world. Residents that live along the river rely on this water source, yet clothing manufacturers often carelessly dump chemicals without any treatment.
Such operations are not sustainable for the local population or the factories, as eventually both parties will run out of usable water in the local vicinity to live on or continue manufacturing. Exhausting local water supplies by overuse or pollution is becoming commonplace. In order to continue industrial operations and growth at the current rate, innovative solutions to protect supplies are paramount. The time to act is now.
For more information, visit the UN website.