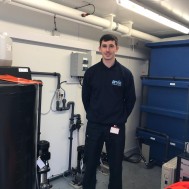 March 2018
You're in your second year as an apprentice – how has it been?
"My time at Arvia has been fantastic! I have made so much progress since I started working here, not only in my trade, but also in terms of confidence; it has really helped. It feels good to be somewhere that trusts in your abilities and gives you the opportunities to progress to your full potential. I am very grateful for the opportunities I have been given, as I believe there are not many people my age doing a job with as much responsibility as myself."
What's the best thing about working at Arvia?
"The best thing about working at Arvia for me must be working on site and solving problems. I like the responsibility given to me on site and the trust that everyone puts in me. It's also nice to see different areas of the world whilst I'm there and to speak to the locals who also work on site." (Liam is currently on a client's site in Scotland managing the operation of Arvia's demonstration system)
What are your future career plans?
"My future career plans are to hopefully become a fully qualified Service Engineer, for this I will need to complete my current HNC and NVQ Level 4, but I believe that this is a very achievable short-term goal. In the long term I would like to become a Project Manager here at Arvia and to use the skills I've learnt from completing the job as a technician to help the project move smoothly. I would also like to obtain my degree at some point on my journey, as one day I aspire to become a Chartered Engineer."
What are you most proud of?
"My proudest achievement has to be making it to the Halton Business Awards as a finalist for Apprentice of the Year. It was a real honour to just be nominated for this award, as I had worked very hard in 2016/2017 and I was happy that this didn't go unnoticed. This also led to me becoming an Ambassador for Apprentices in the Liverpool city region, this is also a great feeling as I believe that an apprenticeship is a great way for the younger generation to get their foot in the door in the field they choose to work in, and my work could possibly inspire a handful of students to become an apprentice."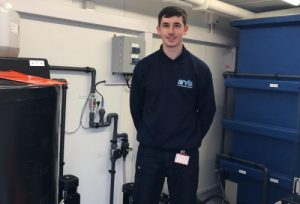 Liam Harris, Apprentice Process Technician, Arvia Technology