Making Waves this World Water Day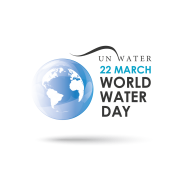 March 2018
This year, World Water Day is focusing on 'Nature for Water', looking at the various ways nature can be used to support the mitigation and prevention of water pollution now and in the future.
According to WorldWaterDay.org, 2.1 billion people live without safe drinking water at home; affecting their health, education and livelihoods. It is therefore of paramount importance that solutions to this challenge are deployed, without posing a further threat to human health or the environment.
With this in mind, there has been an emphasis on Nature-Based-Solutions (NBS), or methods which utilise nature as a cost-effective and sustainable means of restoring the balance of the water cycle and reduce the ever-growing water gap. This involves methods such as re-joining rivers to floodplains and restoring wetlands, all of which are designed to improve human health, support livelihoods and reduce the effects of climate change.
Today, water management is largely concerned with man-made infrastructure, classified as 'grey' solutions. However, 'green' infrastructure projects are under-utilised and could be used to work in conjunction with current grey methods.
In the future, the wider objective is to strike a balance between 'green' and 'grey' methods to increase benefits and efficiency, whilst reducing costs and trade-offs.
At Arvia, we have created a water treatment solution offering a unique balance between 'green' and 'grey' methods. Although strictly our systems are engineered, the methods we use are far more ecologically friendly; removing the unnecessary use of chemicals and operating with very low power consumption or even making use of solar energy.
Other means associated with 'grey' solutions, such as Ozone and Fenton treatments, use chemicals to treat the whole body of water without focusing on specific contaminants. Alternative treatment processes also produce toxic sludge as a by-product which requires specialist treatment and causes extensive damage to the environment.
With statistics from the Water Resources Group suggesting that in 12 years' time the water gap will reach 60%, it's obvious that the time to act is now. The challenge businesses face is how to treat notoriously difficult compounds in water to compliant levels, without incurring extreme costs or causing damage to natural ecosystems. This is important because the failure to abide with the strict legal regulations surrounding water treatment can result in hefty fines, not to mention the irreparable reputational damage which itself comes at a commercial cost.
Since its creation 25 years ago, World Water Day has successfully shed light on the current water crisis and encouraged industry leaders to lean towards more ecologically friendly methods of water treatment.
With alternative options available, there is no longer a requirement for tertiary water treatment to rely on processes which are damaging to the environment. Chemical-based processes or adsorption methods subsequently result in harmful contaminants being returned to the environment; whether this be chemicals directly dosed into the water and discharged or spent adsorptive media being sent to landfill. Unfortunately, these traditional methods are still widely adopted.
Arvia's Nyex solution offers the final, self-regenerating step to water treatment, adopting a combination of adsorption and oxidation processes in one unit. The Nyex system selectively removes problematic trace level contaminants, which often persist traditional water treatment processes, without the need for chemical dosing or off-site media regeneration/landfill.
The shift towards a focused approach to water treatment marks the start of mass change and at Arvia, we pride ourselves at being at the forefront of the environmental transformation.