Halton Business Awards 2017 Winner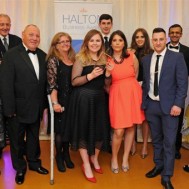 May 2017
Arvia are very proud to announce that Apprentice Engineer, Stacey Hammond, won the Apprentice/Young Achiever of the Year Award at the Halton Business Awards 2017! She was accompanied on the night by her family, her mentor Lucile Francois and finalist apprentice Liam Harris, also from Arvia.
Stacey is a valuable part of team Arvia whose main responsibilities include producing CAD diagrams of various treatment units using a 2 and 3D drawing package. She also forms part of a close knit team assembling and testing Arvia's large scale containerised units prior to their deployment to customer sites.
Stacey was entered into the Halton Business Awards due to her enthusiastic commitment to her continued personal development, aligning this to the organisational goals of Arvia. She has demonstrated strong progression in design during her year with the company, regularly provides valuable contributions and has shown continued commitment to her studies.
Stacey is an asset to Arvia and we are extremely proud that she was selected as the winner of this prestigious award. Congratulations!